OHSU Researchers United
Contact us at [email protected]
Thank you to everyone who came to our Town Hall last month! It was so inspiring to see so many of us come together to discuss how we can join forces to improve our working conditions.
We would like to take a moment and recognize that OHSU gave many of us market-level wage increases this last week. For many of us, this was a significant raise! We are so happy for everyone in the research-ranked role for this step in the right direction. However, this is one step in the vast amount of concerns that we have heard from all of you.
These pay raises were long overdue and coincidentally – or not - arrived after the Administration became aware of our unionization efforts. If the administration gives us a raise with the threat of a union alone, imagine what we can achieve with a union! Additionally, forming a union is not only about a salary increase. A pay raise addresses only a single aspect of employment - compensation. While it's certainly an important (and much needed!) factor, there are many other elements to consider, such as working conditions, benefits, hiring, and job security, and the overall betterment of research-ranked employees. In fact, these issues are often the driving force behind the formation of unions in the first place
We would like to bring to your attention a different perspective on the matter. Our wages are not increasing at the same pace as minimum wage, rent, and shockingly far behind the OHSU operating budget increases. Below are two graphs that show the starting Research Assistant 2 salary compared to cost of living, minimum wage and the OHSU operational budget (Fig. 1). Comparing where we are now to where we were in 2012 regarding these factors is quite alarming! While this raise is welcome and needed, it does not make up for the consistent lack of salary increase by OHSU for over a decade. We have a long way to go to ensure that all research workers receive a livable wage!
Figure 1: Researcher wage increases outpaced by minimum wage, cost of living and OHSU operating budgets from 2012 to before and after the March 2023 raise.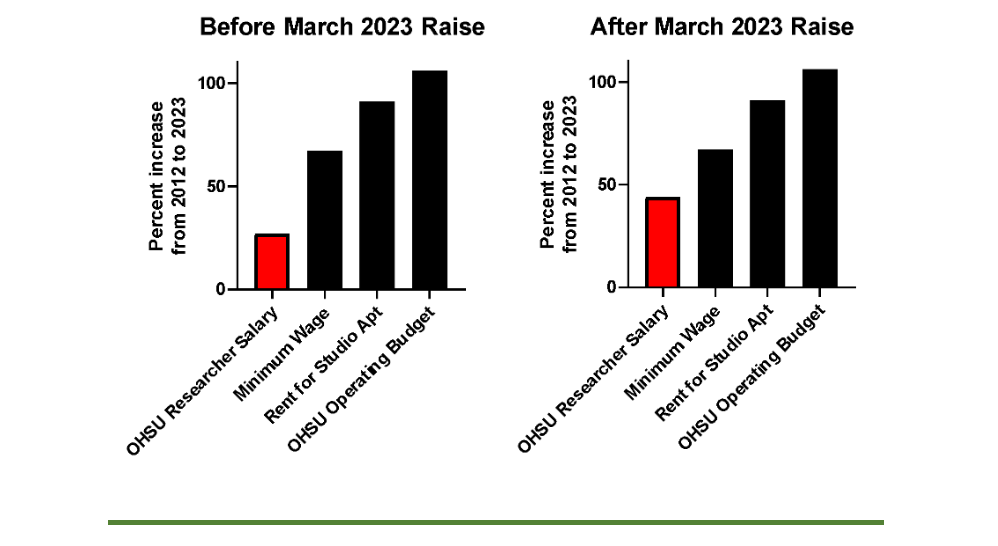 CHECK OUT OUR WEBSITE
Our website has a ton of useful information on how to get involved, upcoming events, and FAQs, among other things.
FOLLOW OUR SOCIAL MEDIA
Our social media team started a series of "theme months" across all social media. January's theme is pay/wages. You can connect with us on Twitter or Instagram (@researchworkers) or at Facebook (Research Workers United).
UPCOMING EVENTS
Research Week, May 1-5. We will be staffing a table at the Old Library during Research Week. The schedule for research week hasn't been finalized, but we plan to be there during lunch time on in-person days and during the poster session. Come say hi and find out more about the union!
Happy Hour at the Waterfront – Cha Cha Cha, Thursday, May 11th 5-7pm. Come meet members of the organizing committee and get your questions answered. Food will be provided.  
Virtual Office Hours, 3rd Wednesday of every month, 7-7:30pm. Have a question? Want to learn more about our campaign? Join our Zoom call.
SUPPORT THE POSTDOCS AS THEY FORM THEIR UNION
Postdocs are organizing now and are signing union authorization cards!! Follow them on social media at Twitter and Instagram. Know a postdoc you think might be interested? Please connect them to Marc Meadows, a postdoc at OHSU as well as an AFSCME organizer.
OUR PURPOSE
We are organizing for the betterment of all unclassified research workers.
OUR MISSION
We want to implement an ideal work environment with better wages, better benefits, adequate resources, and a better work-life balance.
Join us!